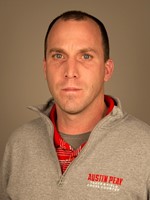 Project Co-Director
Jonathan Newlin
Coach Newlin currently serves as the Boy's Track & Field Assistant Coach at West Creek High School. He also served as an assistant coach for Austin Peay State University from 2016-2017. A native of Erie, PA, Newlin graduated from Central High School and later attended Edinboro University of Pennsylvania from 1996-1998 prior to joining the United States Army in 1999.
Newlin ran cross country/track and field at Edinboro University of PA under Doug Watts, earning All-Conference and All-Region in the PSAC as a sophomore and junior. He also ran on three Division II cross country national championship qualifying teams…with finishes of 6th (1997) and 4th (1998). Newlin posted finishes of 39th with a time of 33:22 (1997) and 46th with a time of 33:28 (1998). His personal best over 10K stands at 31:40.
Newlin graduated from Austin Peay State University in 2008 with a B.S. in Public Management, running for Coach Doug Molnar from 2007-2008.